Superkidz in your centre/COVID-19
The SuperKidz program is designed to appeal to children aged 2-6.  Sport, fitness, dance, music and education are elements present in each of our 26 themed classes, keeping classes fresh, exciting and fun.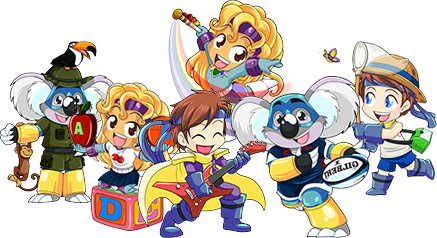 Why Superkidz
12 different sports
Music and dance
Props and costumes
Entertainment and creativity
We focus on fitness and health to encourage good choices 
Working with you- We aim to compliment the opportunities children have in your centre. Early childhood is the essential time for the development of Fundamental movement skills. After 8years old these skills are much more difficult to develop. We want to help children improve their physical literacy, giving them skills and motivation for a lifetime of enjoying being healthy and active. 
So much fun- We ensure our participating children are learning and exercising without even realising as they are having so much fun. Each week is a new theme to keep the class fresh and interesting. They get to try new sports and experiences. They get to socialise with their peers, learn to wait in line, communicate as individuals and in group situations, growing their self esteem and self confidence in a comfortable and fun enviroment.
No fuss-  We have created a revolutionary web app that is purpose designed to work for the instructor's parents, directors and Head office. This system takes care of enrolments, attendance, parent log in for invoices, updates, photos and payments so there is no mess no fuss and everyone has live current information.  This automated roll system is linked to our accounting, so we can ensure that parents will not pay if their child is not present or does not participate.
Incursions- Superkidz is also available as an incursion with up to 40-60% reduction in the cost of classes/child depending on how many children you wish to include in the program. Centres often enjoy hosting Superkidz as a special opportunity for their Kindy children in their final year. Family daycares have also hosted Superkidz with great success!
What our centres say about Superkidz!                
"I just wanted to give you the feedback that we are thrilled with Super Cass. She's so natural with the children and in only the second week all were so excited to see her. She's fabulous!"- Kelly's family daycare 
"Can you please pass on a massive thank-you to Super Manda...from a Manager's point of view, I just wanted to say, that Manda is fantastic. She is professional, kind, and extremely patient with the children, and a true asset to Superkidz"- JIndalee Avenues
"Parents can have their children learning new skills like sports, drama and dance without having to take their child anywhere extra, and fit it into their already busy lifestyles"- Footprints
Instructors -Our fabulous instructors are friendly, respectful and professional. They have current blue card, first aid, insurance and all have amazing backgrounds to bring the most to the children's experience.  
EYLF AND NQF- Our program aligns with the National Quality Framework (NQF) and Early Years learning Framework (EYLF).  We have prepared weekly updates outlining the links between each week's program and the EYLF. 
SUPERKIDZ COVID-19 risk management plan-
All Superkidz instructors will complete Covid-19 infection control training, provided by the Australian Government Department of Health. They will be able to provide a certificate to confirm their participation.
Superkidz instructors will clean their hands regularly with soap and water or alcohol-based hand sanitiser. Instructors are to carry their own hand sanitizer and use it before, during if necessary, and after each class.
Instructors are to cover their nose and mouth with a tissue or bent elbow when coughing or sneezing, dispose of tissues immediately after use and wash their hands or apply hand sanitiser.
Instructors are to avoid touching their face, nose and mouth.
Instructors will maintain a social distance of 1.5m from other adults at the daycare centre.
If the instructor of the Superkidz class is unwell, the class will be cancelled for that day or covered by another instructor. In the case of the class being cancelled, parents would  be provided with a credit for the missed class and be informed by email. 
Equipment used for the Superkidz class will be sprayed with an alcohol based disinfectant (such as Glen-20, 60% alcohol) or wiped with an alcohol wipe after each class to prevent contamination between centres.
If a Superkidz instructor becomes unwell in the days following the class and is confirmed to have COVID-19, they will call 13HEALTH (13 43 25 84) for advice. The daycare centre would be Informed about possible exposure to a confirmed case of COVID-19. The instructor would self quarantine for the next 2 weeks and families would receive credit for any missed classes. The instructor would also be required to self isolate for 2 weeks if they came into close contact with  someone who had a confirmed case of Coronavirus.
Children attending the Superkidz class will be asked to wash and/or sanitise their hands prior to and after each class
Where possible Superkidz classes can be undertaken outdoors                                (Replaces version 1, 27th May 2020)
Our Price of $10 a lesson is guaranteed through to 2020.
For Parents & Guardians
Are you looking to nominate your local centre? Want to know more about Superkidz?
Talk to one of our friendly staff for more information
Contact Us
For Centre Owners/Administrators
You can apply directly below